LakePulse partners
Environmental Protection Division (Ministry of Environment - Province of British Columbia)
Environment and Climate Change Canada
Ontario Ministry of the Environment and Climate Change
Environmental Monitoring and Science Division (Government of Alberta)
IISD Experimental Lakes Area (IISD-ELA)
Ouranos Consortium
Public Health Agency of Canada
Ministère du Développement Durable, de l'Environnement et de la Lutte contre les Changements (Québec)
Environment and Natural Resources (Government of Northwest Territories)
New Brunswick Department of Environment and Local Government
Water Resources Branch and the Fish and Wildlife Branch in the Department of Environment, Government of Yukon
Supporting partners
Department of Municipal Affairs and Environment (Government of Newfoundland and Labrador)

LakePulse researchers work closely with scientists from provincial and territorial environment ministries, federal departments and agencies, and other organizations.
We help our partners monitor changes in their lakes and compare them with other lakes across Canada. We provide key information and support on lake health including:
Providing scenarios of future lake health.
Assessing the costs and probability of lake degradation.
Collaborating with organizations to advance lake management.
Providing tools to monitor the success of new policies.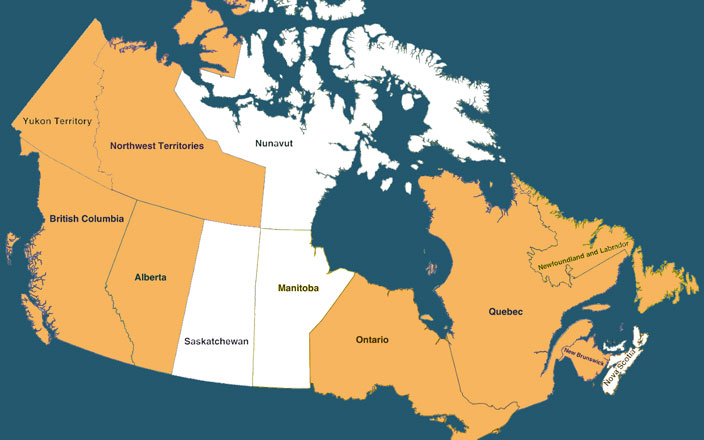 (Our provincial and territorial partners are shown in orange in the map)
LakePulse supports decision-making and policymakers
The LakePulse Web Atlas will offer interactive maps to assess the past, current and future states of Canadian lakes. We will also provide new tools for lake assessments ranging from genetic markers to remote sensing approaches.
This will improve lake stewardship by our partners and produce new scientific knowledge about lake processes to support management policies.
Sharing archived data
We will retrieve, from the archives of our partners, decades of data collected during their monitoring and research programs. These datasets will be added to our LakePulse Database, which will also include data from the 680 lakes sampled across Canada as part of the LakePulse Survey and data collected by community-based monitoring. Using our database, data for any lake can be compared to regional and national conditions. These comparative analyses can be used to examine the impact of land use or new policies on lake health.
The management of Canadian lakes in the context of a changing environment requires access to lake and landscape data, which will be achieved through the shared LakePulse Database for multiple uses:
Partners also offer expertise in sampling and logistics
For three summers (2017 to 2019), the LakePulse Survey will be sampling across provincial boundaries and along natural and land-use gradients. To carry out this large-scale sampling campaign, we are working with our partners, First Nations, municipalities, lake associations and other groups across Canada, who contribute their local expertise in sampling and logistics.